Don't toss your old candle jars! You can use it to decorate your room. Here, I am using a Slatkin & Co candle I recently burned down to store and display my bangles.
Materials for Cloche Jewelry Holder: Candlestick Holder (Ikea), Candle Jar (Bath & Body Works), Knob (The Home Depot)
Note: Ideally, you should also get a dowel to place in the center of your cloche to hold the bangles together. However, I couldn't find one that fitted, so I will be adding that later.
Other materials: super glue or glue gun, acetone and cotton balls
How to clean your candle jar: To remove old wax, place the jar into the oven set at 350 degrees and wait for the wax to soften and melt. After it has melted, you can use some sort of utensil to push off the bottom of the candle wick. Pour the wax outside or into a trash can. DO NOT POUR INTO THE SINK.
Alternative Method: Pour boiling water into the jar & the wax should melt. Use a utensil to help lift the wax. Again, pour the wax outside or into the trash.
While the jar is hot, wipe the excess wax with a paper towel until it is clean.
How to remove the label: Peel off as much of the label as you can. Wipe away the sticky stuff that remains with acetone or a strong nail polish remover. Usually, this does the trick for me.
Using super glue, I adhered the lid to the candle holder.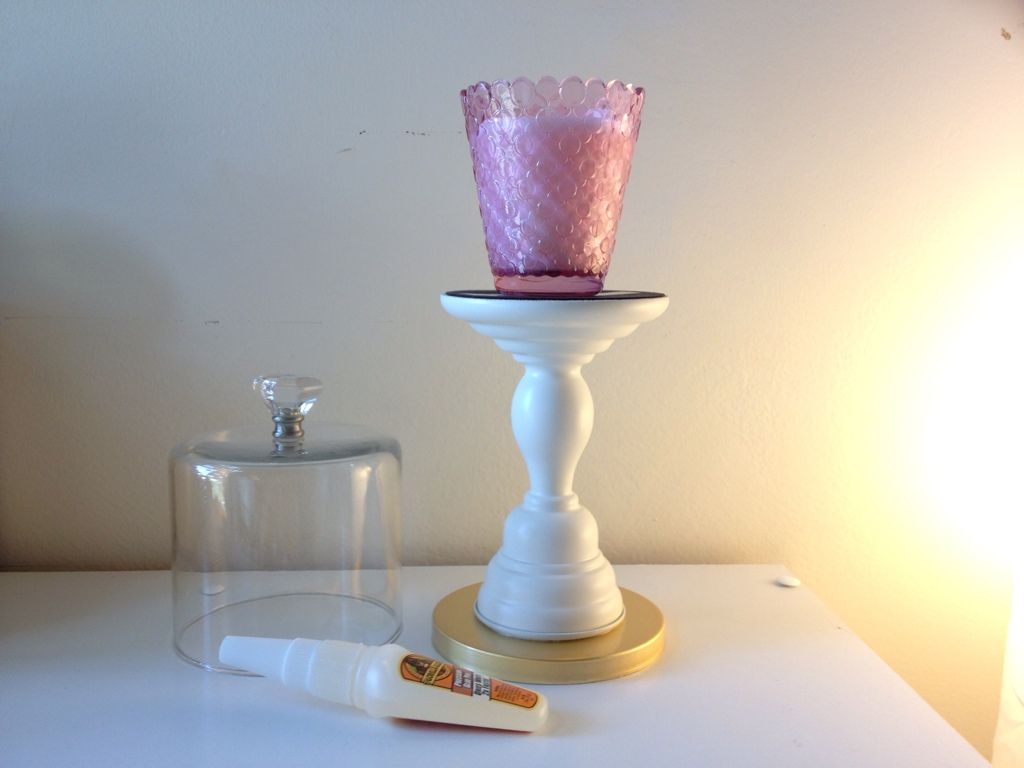 I used a candle to press down on the candle holder to keep it from sliding while it dries.
Lastly, I attached the knob to the bottom of the candle jar.
Voila! Enjoy your new cloche jewelry holder! It displays, stores, and protects your jewelry from oxidation and dust. :)
Money spent: $9 for candle holder & knob.