Whether it's preparing a candlelit dinner with your sweetie, relaxing in a romantic, spa-like bath with a book in hand, or just laying in bed by yourself listening to soft music, candles are an absolute essential to a relaxing night at home. Recently, I burned down a few favorite of mine and frowned at the thought of having to fork out anywhere between $10-$40 for some new Yankee Candles and Swatkins & Co's. Sure, those candles are lovely and smell great, but I immediately thought, hmm.. why not just make my own? I jumped to my laptop and off on a googling quest I begin, researching how to make the perfect candle! I seriously could not wait to mix the various colors and scents together. I made a beeline to my local Michaels, redeemed my 40% off coupon (look for it in your sunday paper), and went about making the candles. Here's my quick and easy tutorial.
1. Find old jars and clean the sticky labels off of them with nail polish remover (acetone is preferred because of its strength) & cotton balls. If paper residue remains, soak the jar in soap and water. You should be able to scrape the paper off after a while. I recycled an old Tostito salsa jar and used candle jars. In another tutorial, I can teach you how to clean soot and residue wax from old candle holders.
2. Melt the wax (found at craft stores) in a double boiler set-up. Basically, I used a melting pot (or you can use a tin can) placed in another pot filled with 1-3 inches of water. Maintain the temperature at 150-200 degrees on medium heat. If the wax gets too hot (over 250 degrees), it may catch on fire.
3. When the wax has melted, stir with a chopstick or a utensil you won't be using for eating again. Now you can add candle fragrances (must be oil-based) and candle dyes, as desired.
4. Lay out newspaper on a flat surface to prepare for pouring and installing wicks.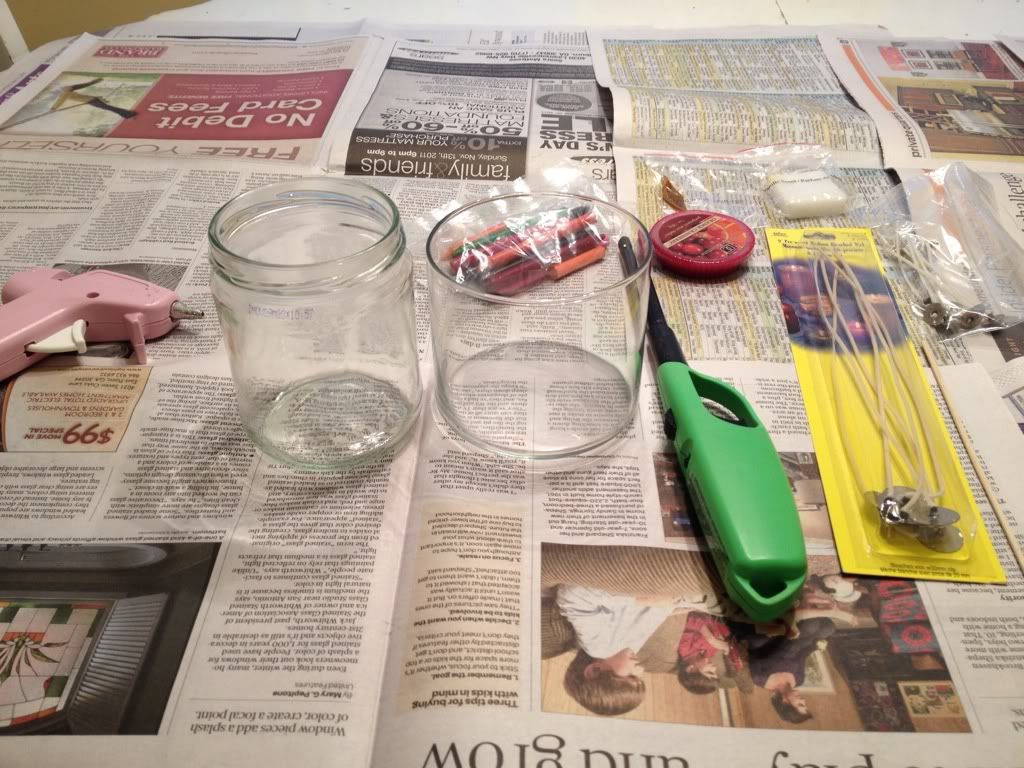 5. Heat jar in oven at 150 degrees so that it will be warm. This will prevent the wax from cooling too quickly and reduces shrinkage.
6. Set up your wick by hot glueing it to the bottom of the jar. Keep it pulled straight by holding it between a pair of chopsticks tied together.
7. Pour the melted wax slowly into your jar.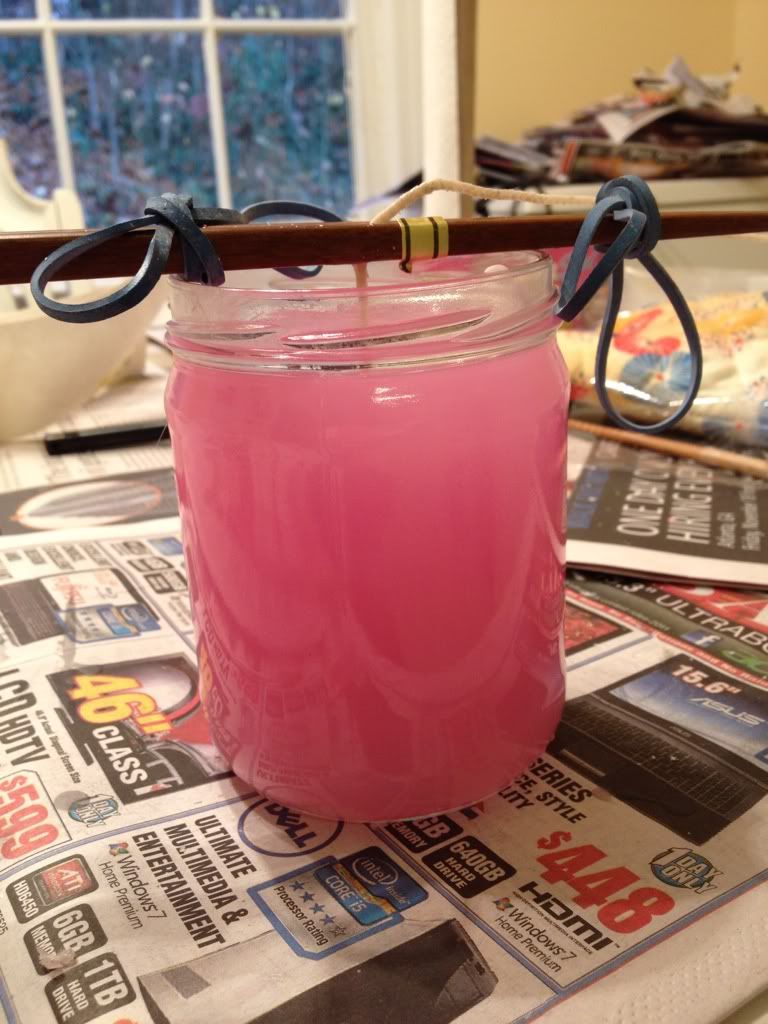 8. Let it solidify after a few hours. You may notice a dip in the candle at the top. This is due to shrinkage. Fill that dip with more wax and let it dry overnight or 8+ hours until completely solid.
9. Remove chopsticks and trim wick to 1/4 inch.
10. Burn, relax, enjoy!